Mettler Electronics - Sonicator 718 Therapeutic Ultrasound
Revolutionary New Hand-Held Ultrasound Mettler Electronics' newest therapeutic ultrasound is the Sonicator® 718. This full powered (2 Wcm² continuous, 3 Wcm² pulsed), new ultrasound is so portable that it fits into the palm of your hand. To get your wall-power-free experience started, it will come with a rechargeable lithium ion battery and a charger. When you are in the clinic, you can also treat patients using power from the wall. Optional items include a handy pouch with a shoulder strap for use in the field as well as a stand for use in the clinic.
Small portable size
Full clinical power
Contact indicator
One-hand operation
Waterproof
Rechargeable battery (included)
Organic EL display (electro-luminescence)
Weight: 7.1 oz. (200 g)
Dimensions: 5.3 in (H) x 2.3 in (W) x 2.2 in. (D), 134 cm (L) x 59 cm (W) x 55 cm (D)
In 1957 Mettler Electronics Corp. revolutionized the therapeutic ultrasound industry with the Sonicator®. Portable and lightweight, it was the first of its kind. Still today, the Sonicator is the standard in therapeutic ultrasound devices. All Sonicator devices feature detachable applicator cables, continuous and pulsed modes, built-in applicator cradles and a two-year limited warranty, one-year on applicators and cable.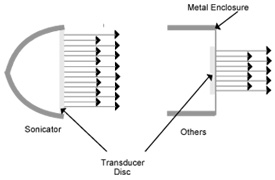 Direct Crystal-to-Patient
All Sonicator ultrasound applicators feature unique crystal-to-patient technology that delivers ultrasound directly to the patient without a metal interface as well as watertight characteristics for underwater therapy.
Universal Applicator Cable
Ultrasound applicators can be changed quickly and easily using Mettler's unique universal applicator cable. Instead of having multiple attached cables, there is only one. The cable can be changed out if damaged without needing to send the entire applicator assembly in for repair, saving time and money.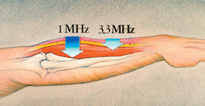 Depth of Penetration
Arrows indicate the relative depth of ultrasound penetration between 1 MHz and 3.3 MHz frequencies.